By Qin Jize in Sydney and Hu Xuan in Beijing (China Daily)
Updated: 2007-09-10 06:58
Pacific rim leaders are charting new pathways for clean and sustainable development, and issued separate statements Sunday stressing the importance of forest and land use to fight climate change.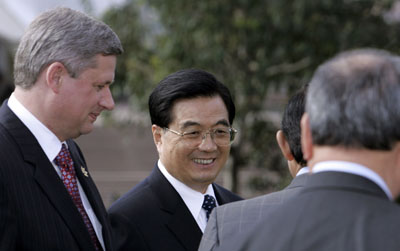 President Hu Jintao (C) and Canada's Prime Minister Stephen Harper (L) prepare for a family photo on the final day of the Asia-Pacific Economic Cooperation (APEC) leaders meeting at the Sydney Opera House September 9, 2007. [Reuters]
The Asia-Pacific Economic Cooperation (APEC) Leaders' Declaration on Climate Change, Energy Security and Clean Development was issued at the 15th Economic Leaders Meeting of APEC in Sydney at the weekend.
The declaration specifies wide-ranging and ambitious actions the APEC member economies will take to reduce greenhouse gas emissions.
Forest management and land use play a key role in the carbon cycle and need to be addressed properly in the post-Kyoto Protocol period, that is, from 2012, it said.
Speaking at the first session of the APEC forum on Saturday, President Hu Jintao put forward four proposals to fight climate change, including strengthening cooperation, pursuing sustainable development and promoting scientific and technological innovation.
Highlighting the importance of setting up the Asia-Pacific Network for Sustainable Forest Management and Rehabilitation, which is part of the declaration, Hu said China has accumulated rich experience and expertise in sustainable forest management and rehabilitation.
The country "would like to share (that experience and expertise) with APEC member economies as a contribution to the collective efforts to fight climate change".
The declaration includes reducing energy intensity by 25 percent by 2030 and increasing forest cover across the APEC region.
It reaffirmed that future international climate change action plans need to reflect the differences in economic and social conditions of the APEC member economies and consider their common but different responsibilities.
On Saturday, Hu said developed countries should face their historical responsibility and reduce their high per capita emission levels and strictly abide by the emission reduction targets set forth in the Kyoto Protocol.
"They should honor their commitment on making technology transfer and providing financial support to developing countries, and continue to take the lead in reducing emissions after 2012," he said.
Hu outlined China's commitment to reducing greenhouse gas emissions and to clean development, too. Between 1991 and 2005, China's efforts to use fossil fuels efficiently has reduced CO2 emissions by 1.8 billion tons. And the slowing down of its population growth, thanks to its family planning policy, has cut the equivalent of 1.2 billion tons of emissions a year.
Green goals
China has vowed to cut its energy consumption by 20 percent for every digit of GDP growth by 2010, reduce the discharge of waste material by 10 percent and raise its forest cover to 20 percent.
Hu's speech came as leaders of the 21 APEC member economies were set to agree to the joint declaration on climate change. The declaration reaffirms the leaders' commitment to the UN Framework Convention on Climate Change, which China sees as the core mechanism and main channel for addressing the issue.
Australian and the US are the only APEC member economies not to have ratified the Kyoto Protocol.
It is heartening to see APEC leaders adopt a "long-term aspirational goal" to reduce greenhouse gas emissions, said Zhang Jianyu, China program manager with US-based Environmental Defense.
The adoption of the Sydney Declaration is a boon for UN's global efforts to curb greenhouse gas emissions, he said.