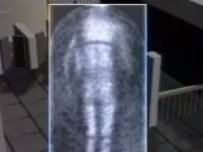 New Body Screeners in use in London: We are living in a dystopian nightmare

People are faced with walking into booths raising their hands above their heads like they're a criminal and being electronically scanned by a machine that produces a naked image of their body. Here's another CLEAR violation of constitutional rights all in the name of "fighting terrorism". Don't you ever wonder exactly WHO they think the terrorist are? The way they're acting one could conclude that they believe it's they're own citizens? Wondering if you should be concerned about this article? Yes you should! Because believe me, if they're already using this in London, it won't be to long before it's here in the US too. THEN how will you feel about it?
NSA: Free Speech is a Weapon of Mass Destruction
"According to the documents, the Pledge of Resistance-Baltimore, a Quaker-linked peace group, has been monitored by the NSA working with the Baltimore Intelligence Unit of the Baltimore City Police Department." Of course, it is completely absurd that the NSA and the Baltimore police would actually believe a small group of Quakers have weapons of mass destruction, that is unless they believe the Bill of Rights is a weapon of mass destruction.
Beam weapons almost ready for battle
There is a new breed of weaponry fast approaching — and at the speed of light, no less. They are labeled "directed-energy weapons," and they may well signal a revolution in military hardware — perhaps more so than the atomic bomb.